Deep Connection
IS WITHIN REACH
This is the Best Way to Connect & Communicate With Your Horse...
One of the most asked questions as an equine relationship specialist & coach is "How can I create/restore/deepen the partnership & trust with my horse?"... My answer is ALWAYS, "deepen the relationship with yourself..."
This is the ONLY way to connect and communicate with them!
Sorry...there is no magic pill.. BUT it doesn't mean it can't be a magical experience, even in the uncomfortable moments!
They are our greatest teachers and come to help our souls, as well as their own, evolve... When we connect to who we really are, we open up direct communication with them. Then and only then can we receive the teachings they are offering to us, most importantly in truth with out judgment (of them or ourselves)
BUT how do we do that?
This is where the real magic happens...
Experiencing total presence in the presence of your own horse...
Clear your mind with meditation
Feed your soul with the music
Connect with your body through movement
Capture the messages in the journaling
Walk into your truest version of yourself! (Literally)... All with your horse by your side!
When would NOW be a good time to say "yes" to building an even stronger foundation for you and your horse to connect from?!
Click here to gain access to the Mirror Session before the offer expires!
MIND
"Every time your mind shifts, your world shifts"- B Katie
Let's get quiet to hear our truth and guidance! We live in an incredibly fast and noisy World these days- If we do not take conscious time to listen to the beliefs we speak to ourselves, we will remain powerless to the conditioning from our life experiences. Without awarness we will remain stuck in the same old patterns, having the same old experiences.
The beauty is that even though we cannot change the past- we can claim the lessons and virtues and never look back!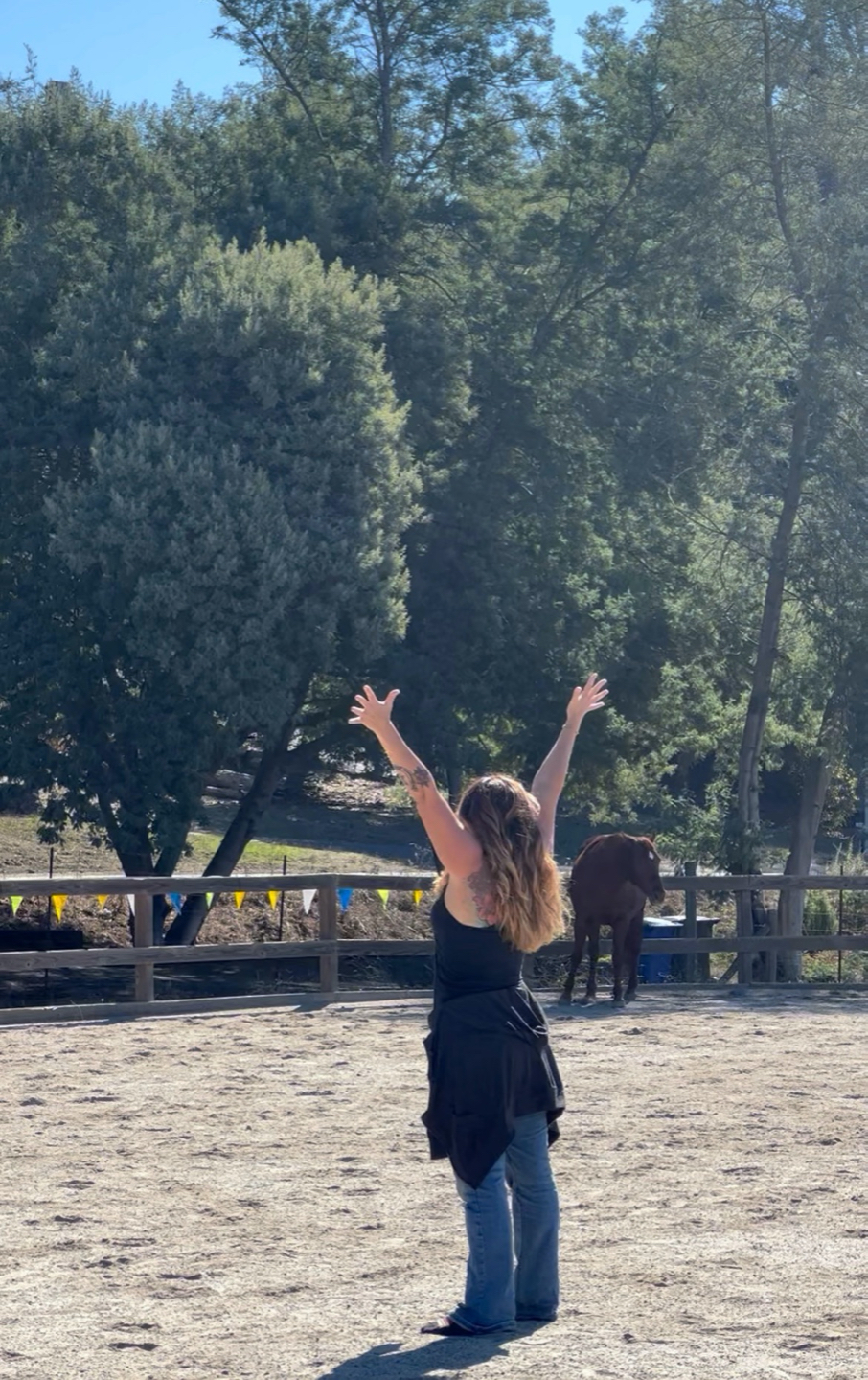 BODY
"Unexpressed emotions will never die. They are buired alive & will come forth later in uglier ways"-S Freud
Suppression of emotion (energy in motion) will lead to depression, dis-ease and imbalance in the body! The crazy thing is we are born knowing how to express! (think about babies/toddlers- all the movement and sound is not just for fun- it serves a purpose)
We hit a certain age and are told to sit down and be quiet... we are shut down- just like many horses in so many training techniques. Let's give permission back to our bodies to do what it is meant to!
SPIRIT
"As we learn to interact with imago Dei, or divine presence, in the horse, we do not worship that animal as a god, but we consciously begin to look for and recognize divine attributes residing within. Through that process the horse sparks an inner expedition, connecting us with the same divine attributes within ourselves"- McCormick (Horses and the Mystical Path)
Once we can clear away all of the masks we have put on to survive- we can begin to thrive!
Trusting the intuition, the messages and the synchronicity's...staying in the flow and reclaiming your power!
Limited Offer
I have been doing live Mirror Sessions since 2019 and I have been doing private online sessions since 2020.
This year was the first time I offered them virtually and with a group. I was so excited to be able to hold space for people all over the World AND the best part is they had the opportunity to share the experience with their own horses!
So many people reached out but I only take a limited amount of participants so that we have time to share and process after the session with each other.
I will not be doing any virtual group sessions until the Fall BUT I wanted to give everyone the opportunity to have the experience before then!
So for a limited time I will make the recording available to purchase...
All you need is headphones, a safe place to share space with your horse unrestrained. Bring a journal and be prepared to have your heart opened!
$44 and will be available until my first live event of Spring (May 20th)!
Click here to sign up!
What do I need for the session?
How long will the session be available to purchase?
Is there ever a time this is not safe to do?
Can this be done with more than one horse?
What people are saying:
"I've only been available to attend two of Amber's Mirror Sessions. The first one brought me feelings of inner peace and tranquility.
The second session - her meditation was that much deeper, and more thoughtful. After the meditation we journaled
and then added movement relating to where we felt " stuck " during the meditation. I must share that this combination of Amber's beautiful meditation, then journaling with horses milling around us followed by movement was truly life changing for me. Through her offering , I was able to put healing light and movement into a part of my mind and body that had been trapped for years.
"
"The Virtual Mirror Session was amazing! Thank you Amber for sharing your gifts and assisting in breakthroughs with things that I didn't know needed to still be addressed. My thorasic outlet syndrome is feeling better tonight!"
-Jamie R
"I really enjoyed and valued the powerful time (Mirror Session) with horses at the SAS clinic. Did I say powerful? I have also watched several podcasts. Amber and her horses have so much to offer. Mirror in the Stall - YES! You may have to dig deep, it may just come to the surface. Deeper communion, communication and awareness.
Anne B.
"That mirror session was awesome. For the first time I had the awareness I had space in my body, I'd cleared out a lovely amount of the shadowy sh*t and your session let in the healing pink light, I actually saw the space behind my heart, when I first heard you say space behind your heart I thought oh my god, my ears have never even heard this space let alone know I have a space there ! Well today I saw it! Look at me and my wow power!
Thank you from the bottom of my heart for showing me and guiding me deeper than I have ever gone…"
-Kyle